Image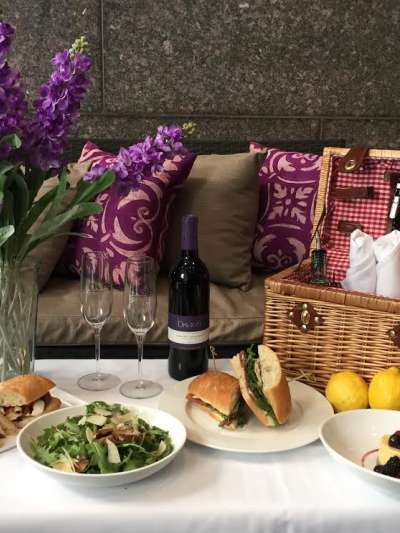 Picnic in Lynnfield!
–
Available Monday – Saturday 11:00 
AM

 – 3:00 

PM
Get outdoors with Davio's Northern Italian Steakhouse, to enjoy lunch, picnic-style, this summer in Lynnfield. Guests call ahead (at least 2 hours in advance), place their order and they will be given a special Davio's Picnic Basket with their favorite items placed inside along with a complimentary blanket for a perfect picnic experience! Guests can bring this basket to the Green at MarketStreet or another preferred destination and enjoy the beautiful scenery while indulging in a three-course meal. The picnic basket for two costs $95 and features a selection of fresh salads, sandwiches and signature desserts, along with two bottles of water (sparkling or still). Bring a friend and get outside to enjoy the beautiful summer weather while it lasts!
Picnic Basket Menu
Choose 2 options for each course
Choice of Salad
(Choose Two)
Arugula — Shaved Parmigiano, Lemon Olive Oil
Spinach — Roasted Peppers, Portobellos, Goat Cheese, Balsamic
Wedge — Boston Lettuce, Bacon, Tomatoes, Onions, Everything Seasoning, Buttermilk
Caesar — White Anchovy, Crispy Parmigiano, Crostini
Choice of Sandwich
(Choose Two)
Fresh Mozzarella, Sliced Tomatoes, Basil, Aged Balsamic
Prosciutto, Arugula, Parmigiano, Red Wine Vinaigrette
Grilled Chicken, Swiss, Avocado
Roasted Portobellos, Zucchini, Squash, Spicy Tomato Marmellata
Filet Mignon, Bibb Lettuce, Onions, Horseradish Cream, Dijon Mustard
*All sandwiches served on Ciabatta Bread 
Dessert
(Choose Two)
Lemon Cake, Cream Cheese Frosting
Fresh Fruit & Berries
Assorted Italian Cheeses
Water
(Choose One of Each or Two of One)
Includes 2 bottles of Still and/or Sparkling Bottled Water