Image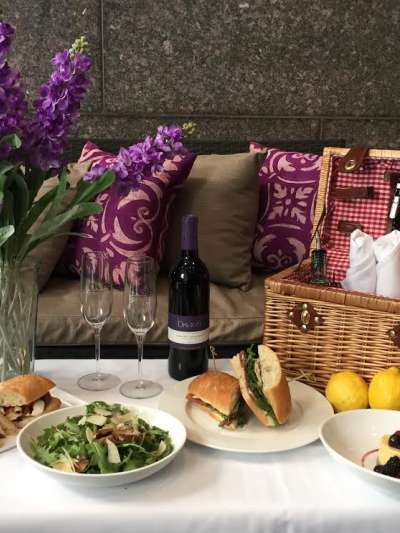 Picnic in Grandscape!
–
Available Friday & Saturday days!
Get outdoors with Davio's Northern Italian Steakhouse, to enjoy lunch, picnic-style, this summer in The Colony. Guests call ahead (at least 2 hours in advance), place their order and they will be given a special Davio's Picnic Basket with their favorite items placed inside along with a complimentary blanket for a perfect picnic experience! Guests can bring this basket to the Green in Grandscape or another preferred destination and enjoy the beautiful scenery while indulging in a three-course meal. The picnic basket for two costs $95 and features a selection of fresh salads, sandwiches and signature desserts, along with two bottles of water (sparkling or still). Bring a friend and get outside to enjoy the beautiful summer weather while it lasts!
Picnic Basket Menu
Choose 2 options for each course
Choice of Salad
(Choose Two)
Arugula — Shaved Parmigiano, Lemon Olive Oil
Chopped - Romaine, Green Beans, Chickpeas, Egg, Tomatoes, Niman Bacon, Blue Cheese
Caesar — White Anchovy, Crispy Parmigiano, Crostini
Choice of Sandwich
(Choose Two)
Fresh Mozzarella, Sliced Tomatoes, Basil, Aged Balsamic
Prosciutto, Arugula, Caramelized Onions, Fig Jam
Davio's Pork Sausage, Provolone, Heirloom Tomatoes, Basil Pesto
*All sandwiches served on Ciabatta Bread 
Dessert
(Choose Two)
Fresh Fruit & Berries
Assorted Italian Cheeses
Water
(Choose One of Each or Two of One)
Includes 2 bottles of Still and/or Sparkling Bottled Water