Image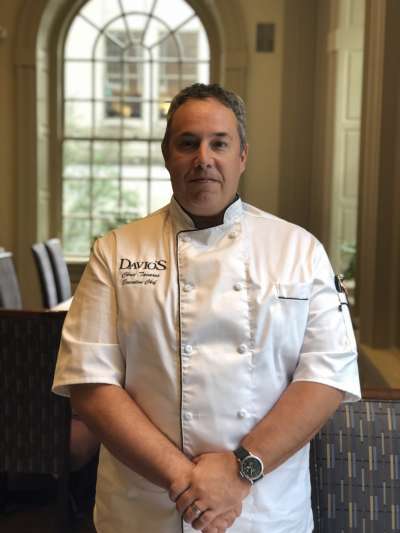 Chris Tavares
Executive Chef
Christopher Anthony Tavares was born in Springfield, Massachusetts just outside of Boston on September 16th, 1972, but currently lives in Levittown, Pennsylvania. Chris graduated from Portsmouth High School and went on to earn an Associate's Degree at Newbury College for Culinary Arts in Boston, Massachusetts. Prior to joining the restaurant industry, Tavares was a landscaper and nautical captain. Tavares was first introduced to the culinary world while working on a ship as a dishwasher, and eventually worked his way up to head cook. He knew then that it was something he really enjoyed and wanted to pursue as a career in the industry.
Tavares refers to his managing style as "firm but fair" and he does not like to micro manage his staff. Chris's expertise includes overall knowledge of restaurant operations, but in the kitchen he is much more detail oriented with seafood and sauces. According to Tavares, the most rewarding part of being a chef is creating new menu items that guests truly enjoy. Tavares has previously worked at The Mansion Inn (Bed & Breakfast), Earl's Bucks County and as a caterer at Culinary Concepts one of Philadelphia's premier off-premises caterers.
While not at Davio's, Chris enjoys dining at Nobu in New York City, Trotter's in Chicago and Mustard Green's in Philadelphia. In his spare time, Chris enjoys golfing and spending time with his family and cooking at home. If not a chef, Tavares would pursue a career as a veterinarian.