Image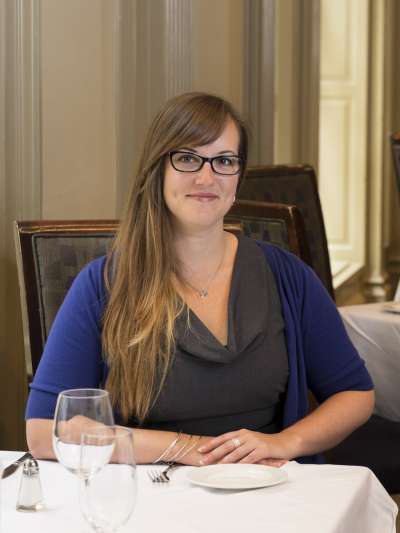 Beth Blakely
Assistant General Manager
Elizabeth 'Beth' Blakely, Sales Manager of Davio's Northern Italian Steakhouse in Philadelphia, PA, has been with the Davio's family for over 19 years. Though she was born and raised in Columbia, MD, she has been a Philadelphian since 1997, when she moved to the City of Brotherly Love to attend Drexel University, where she majored in Engineering.
Blakely was first introduced to the restaurant industry, at Davio's in February of 2000, where she quickly moved up the ranks. Her constant quest for a greater challenge earned her the roles of Assistant General Manager, General Manager and Sales Manager. Blakely displays her passion for hospitality as Sales Manager by giving guests confidence in Davio's and ensuring its prestige in Philadelphia. She finds the most exciting part of the restaurant industry to be its creative, changing environment, social atmosphere and the new challenges that come with it. With her efficient and friendly managing style, she continues to provide a solid foundation for the staff, both old and new. She strives to continue to learn and be challenged in her role, making the Davio's experience better than ever for guests.
Her culinary favorites are Ludo Lefevre and Marco Pierre White and her favorite place to dine is Davio's (her favorite dish is the Rigatoni, Sausage, Peppers, Mozzarella and Tomatoes). In her free time, Blakely enjoys traveling, photography and reading. If she were not the Sales Manager of Davio's Philadelphia, she would be a (traveling) photographer, capturing the beauty of some of her favorite places to visit, such as Cuzco, Brussels and Dublin.