Image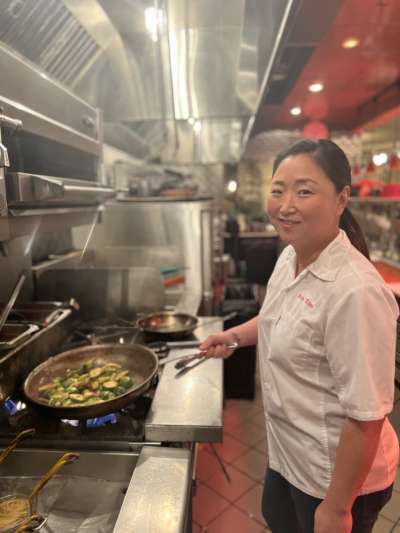 Ann Kim
Executive Chef
Chef Ann Kim was born in San Jose, CA and grew up in the San Francisco Bay area. She attended Western Culinary Institute in Portland, Oregon, a Le Cordon Bleu Program. Kim worked in a variety of restaurants such as Spencer's for Steaks and Chops in San Jose, CA as the Sous Chef. She's also been the Sous Chef for a high-end Moroccan-French restaurant, Chef de Cuisine for Joya (modern tapas) and Executive Chef for Garden & Gun Club magazine. 
The most influential people in her life growing up were her mother and grandmother "My mother was the best cook. She mainly made Korean food. I always assumed she learned from her mother but she was really self-taught." according to Kim, "I love cooking and love sharing my food with others. I get so excited when I see someone bite into my food and they enjoy it. It's one of the most satisfying feelings." 
 One of Chef Kim's passions is traveling "When I was younger, my parents would send my sister and I to Seoul, Korea for a month at a time. It was a great experience to travel internationally and really see what living there was like so early on. Since then, she's traveled to Japan, Hawaii, Virgin Islands, Mexico, England, France, Italy, Portugal, Germany and Sweden. Her favorite place in the world is Sweden. "I went during the Summer Solstice and the days were so long. I would wake up and think I over slept because it was bright outside and it would be 3 am!" 
Chef Kim's favorite memory from working in the industry is a guy named Oscar. According to Kim "I worked with at Joya. He did not speak any English. My kitchen Spanish is pretty good. I would say I'm fluent in Spanglish. I would tell Oscar, I can learn more Spanish, but he should learn more English. Not because we're in America, but because he would have more opportunities in his career. He really took that advice to heart. I would teach him English every day. We would start with ingredients and kitchen terms. I left that job after 6 years. One evening I was dining at one of my favorite restaurants, The Sea by Alexander's. Amazing high-end seafood restaurant. As I was getting settled, food starts arriving at my table. Dishes I hadn't ordered. The server says it's compliments of the Chef. I don't recall knowing or meeting any of the chefs at that restaurant, but I was appreciative. At the end of the meal, I ask to be taken to the kitchen and meet the chef. It's Oscar! He's the Sous Chef at The Sea and he's speaking perfect English. He says, "Anita, thank you for everything. Thank you for teaching me English." I was in tears. So happy and proud of my Frijolito (his nickname).
If she wasn't a Chef, Kim says she would be working for a non-profit saving animals, "I love animals. Anytime I see a stray animal, I attempt to save it."