Image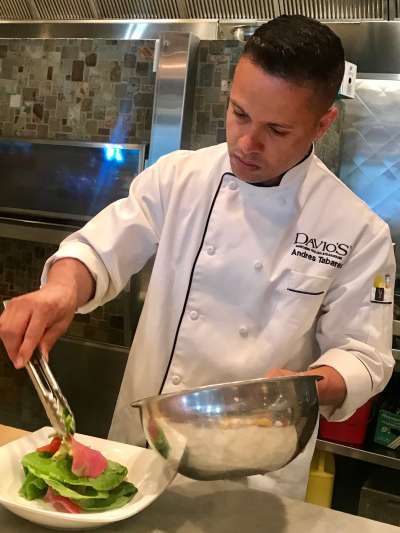 Andres Tavares
Executive Chef
Andres Tavares is the Executive Chef at Davio's Northern Italian Steakhouse in Boston's Seaport, MA.
Tavares hails from Colombia, where he grew up on a farm with his nine brothers and sisters. Upon relocating to Massachusetts with his family, Tavares began working at the original Davio's on Boston's famed Newbury Street as a dishwasher in 2000.  He was quickly promoted to line cook and in 2002 when Davio's moved to Arlington Street and changed the concept to a Northern Italian Steakhouse, he was promoted again to Sous Chef. During his early years in Boston, Tavares held other positions at local eateries but according to him, "it was at Davio's that I always had the best experiences." 
Tavares says he enjoys being a chef because, "l enjoy teaching my line cooks how to become better every day. That's how I got to where I am today."
When not at Davio's, Tavares can be found eating at his favorite Colombian restaurant in East Boston or spending time with his wife and daughters. Tavares currently resides in Winthrop, MA.