Image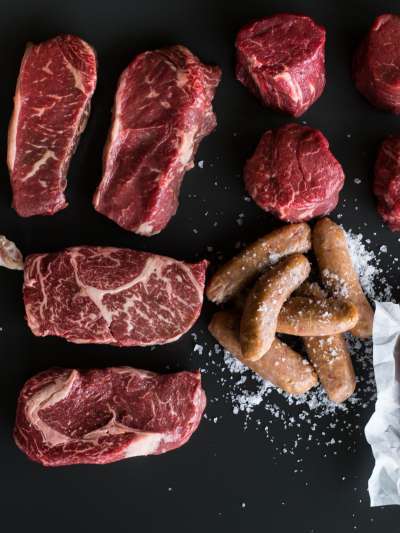 Davio's Essential Box
$300.00
The Davio's Essential Box includes:
Four 8 oz Center Cut Filet Mignon
Two 13 oz

55 Day

Prime Aged Strip Steak
Two 14 oz

55 Day

Prime Aged Ribeye
Two 1 pound Grass Fed Ground Beef
One Whole Semi Boneless Chicken
One pack Davio's Chicken Sausages
One pack Davio's Pork Sausages
Pricing does not include shipping (once you enter a shipping address, shipping costs will be calculated).
Free Range Chickens
At Davio's we take extra steps to ensure the health and welfare of the chicken we use. They are raised in comfortable houses with an unlimited supply of clean water and fresh feed along with plenty of fresh air and room to roam, allowing them to live a normal life without the threat of predators, harm from the elements or diseases.
Not only is the chicken you're eating free range, but 100% of the corn and soybean used to make the chicken feed is grown in the USA. The feed is formulated by staff veterinarians and nutritionists for the optimum health and well-being of the chickens.
Prime Steaks
We hold ourselves accountable to deliver the highest quality "Wet Aged, Center Cut Steaks" delivered directly to your door at the most cost-effective prices for steaks of similar quality.
Our USDA Prime, pure-bred Western steers are fed a 100% vegetarian diet of corn and alfalfa grass, producing the absolute finest beef eating experience. No steroids, preservatives or tenderizers are used, cut by master meat cutters in Massachusetts, marbled to excellence, wet aged 55 days to perfection, known for their thick juicy profile and their "Buttery Tenderness and Delectable flavor"!
Our steaks are Exclusive! They are not available in stores or anywhere else. We are excited to bring these high-quality meats directly to you to enjoy with family and friends or to use as the perfect gift for those you care about most!
100% Grass Fed Ground Beef
Our fresh ground beef delivers on all the claims you are looking for: no antibiotics and no added hormones.
Whether you're making Meatballs or Bolognese, this ground beef is good for you and your family, good for the cattle and good for the environment.
In addition to being packed with B vitamins, grass-fed beef has been found to be higher in vitamins A, E and other antioxidants compared to grain-fed beef. Grass-fed beef has significantly lower levels of saturated fat compared to grain-fed beef and three times higher in Omega-3.
Davio's Sausages
At Davio's we're beyond passionate about the food we serve our guests. The flavor profiles must be unique; the experience must be perfect. For more than 30 years, we've delighted guests with our Italian Sausage. Today, we're thrilled to bring this time-honored Davio's recipe to you.