Image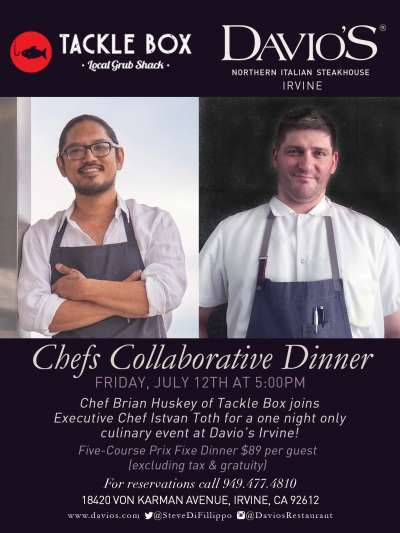 Chefs Collaborative Dinner
On Friday, July 12th, Executive Chefs Istvan Toth of Davio's Northern Italian Steakhouse and Brian Huskey of Tackle Box join forks for a one-night-only exclusive collaboration dinner at Davio's Irvine. The chefs will unite their personal cooking styles and deliver a five-course dinner menu available for one night only!
Chef Brian Huskey competed on BRAVO's nationally acclaimed TV hit show Top Chef Season 11: New Orleans, where he had a national platform each week to showcase his talent. He cooked his way to the top 5! Since Top Chef, Brian has been busy with private and corporate events, catering, consulting and cultivating concepts – and now launching Tackle Box, which has two OC locations in Costa Mesa and Corona Del Mar.
The chefs will unite for an extraordinary evening as they take turns presenting each course.
The Chefs Collaborative Dinner will take place at Davio's Irvine on Friday, July 12th starting at 5:00 PM. The five-course dinner menu will be $89 per guest, excluding tax, gratuity and beverages. Suggested wine pairings will be available in addition to the menu. For more information and dinner reservations guests should call 949.477.4810 or click on the reservation link below.
Primo
Chef Brian Huskey
Secondo
Chef Istvan Toth
Farinaceo
Chef Istvan Toth
Piatto del Giorno
Chef Brian Huskey
Dolce
Chef Lena Huynh