Image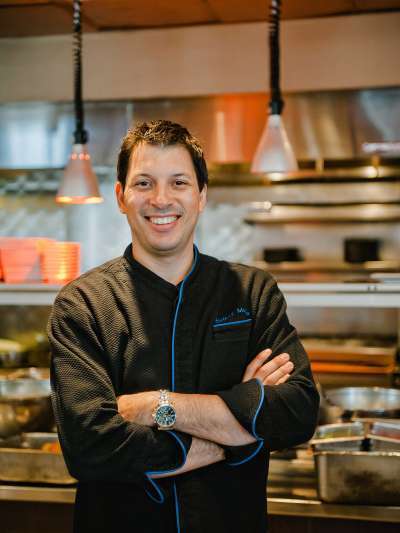 Rodney Murillo
Culinary Director & Vice President
Rodney's fascination with food started early. Growing up on a farm in Costa Rica, he gained an appreciation for every aspect of food preparation. He remembers that all meals prepared by his family used only the freshest ingredients, a tradition he strives to maintain to this day.
Rodney came to Boston at age 16 and his talent and dedication allowed him to quickly rise through the ranks from the Davio's kitchen to Executive Chef and now to Culinary Director and Vice President, overseeing all of the Davio's kitchens.
In 2009, he received the honor of being invited to cook at the James Beard house. Murillo has competed in various competitive Food Network television shows including Rewrapped, Cutthroat Kitchen and was recently a finalist on Beat Bobby Flay. He is a regular on many TV programs such as NESN's Dining Playbook with local Boston personalities Billy Costa and Jenny Johnson.

Rodney is active in various charities and nonprofit events in Boston and beyond. He participates actively in the national nonprofit Best Buddies created by Anthony Shriver. Yearly, alongside Guy Fieri, he participates in the Best Buddies Challenge event. Davio's employs workers from the Best Buddies Jobs program whom Rodney oversees to make sure they are thriving and successful in their employment. He participates in Share our Strength, Taste of the Nation in many cities and is passionate about children's charities including Boston Children's Hospital and the Cam Neely House.

Rodney has cooked alongside many celebrity chefs including Jose Andres, Ming Tsai, Ken Oringer & Todd English and for many celebrities including Tom Brady and Gisele, Robert Kraft and family, Pedro Martinez, Tom Hamilton of Aerosmith, Bruce Springsteen, The Roots, Governor Charlie Baker as well as many sports teams including the Boston Celtics, Boston Bruins, New England Patriots, Atlanta Hawks, Philadelphia Phillies and Montreal Canadians. 
He takes great pride in being a self-taught chef and working with many of the same people who have nurtured him through his years at Davio's.
Murillo lives in Boston with his wife, Audrey, and their two children, Joaquin and Lola.
Follow Rodney on Twitter: @RodneyMurillo.