Image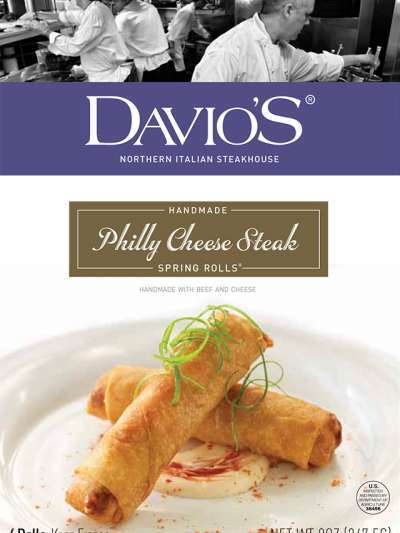 Spring Rolls
Find them in a store near you
Like you, we get more than a little passionate about the food we serve our guests. It has to be an experience. It has to be different. It has to be perfect. For years, we've delighted guests with these handmade Spring Rolls. And we hope they delight you as well. In only 12 minutes, you'll be serving up an instant crowd pleaser. Whether it's Philly Cheese Steak, Buffalo Chicken, or Chicken Parmesan, these light and flaky, pastry-wrapped spring rolls are delicious and convenient.
You can find Davio's Handmade Appetizers in the freezer section of these retail stores and from these distributors:
As of September 2018*
Northeast
Ahold
Associated Grocers of New England
Big Y
Bozzuto's
Carluzzi's
Crosby's Markets
C & S Wholesale Grocers
Dave's Markets
Donelan's Markets
Ghoretti's
Henries
King Kullen
Kings Supermarket
Market Basket
McMahons Farms
PFG Northcenter
Porky's Distributors
Price Chopper
Reinhart
Roche Brothers
Shaws
Stew Leonard's
Stop & Shop/Giant
Sysco Boston
Sysco Philly
Tops Markets
US Foods
Wakefern — Shoprite Stores
7-Eleven
Arnolds Meats — Chicopee
Village Market — Scituate
Fruit Center — Hingham & Milton
Botes — Norwell
Mullaneys — Cohasset
The Wine House — Framingham
Steamers — Newton
Fresh Catch — Mansfield
Southeast
Costco Wholesale
Harris Teeter
PFG Milton
Sysco
Midwest
Albertson
C&S Wholesale Grocers
Costo
Dierberg's Markets
McClanes - Texas
Roundys/Mariano's Markets - Chicago
Schnucks Market - Missouri
Tom Thumb — New Mexico, Texas
Southwest
WEST
Bristol Farms
Costco
Gelson's
Sysco
7-Eleven — Los Angeles
*

List is accurate as of date published. Please call your local retailer to confirm as we are unable to guarantee future availability.