Image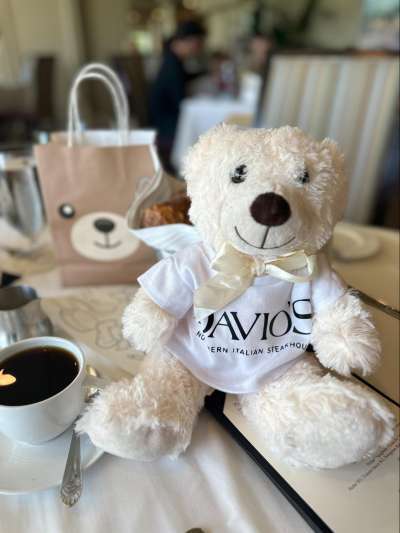 Teddy Bear Brunch

Choose from three Sundays in December!
This holiday season, Davio's Northern Italian Steakhouse in Boston's Seaport is throwing a Holiday Teddy Bear Brunch! On Sunday, December 3rd, 10th & 17th from 11:00 AM to 1:00 PM, children of all ages are invited to participate in a one-of-a-kind event to celebrate the holiday season!
Please register for each child and adult (an adult must accompany children). Limited space is available.
Each week, local Celebrity guests will read their favorite children's book including December 3rd Jacqueline Bruno, Emmy Award Winning TV Personality, December 10th Abby Bielagus, Editor of Boston Common Magazine and December 17th Janet Wu, reporter & media personality!
The event costs $45 per child & includes a 2 course brunch, cookie decorating & a Davio's Teddy Bear to take home. Adult admission is $65 and includes a 2 course brunch with one mimosa!
TEDDY BEAR BRUNCH — KIDS MENU
Choose one
Scrambled Eggs, Bacon, Fresh Fruit
Choice of Buttermilk Pancakes (Plain, Chocolate Chip or Strawberry)
Choice of Pasta & Sauce (Penne, Spaghetti, Gnocchi, Macaroni) & (Butter, Tomato Sauce, Bolognese or Meatball)
Mac & Cheese
Cheese & Tomato Pizza 
Cheese, Tomato & Pepperoni Pizza 
Chicken Fingers, French Fries
Choose one
Single Scoop Homemade Ice Cream
Hot Fudge Sundae
Teddy Bear Brunch — Adult Menu
Choose One
Eggs Benedict, Poached Eggs, Prosciutto, English Muffin, Hollandaise
Choice of Buttermilk Pancakes (Plain, Chocolate Chip or Strawberry)

*

Everything Bagel, Smoked Salmon, Cream Cheese, Red Onions, Tomatoes, Capers
Hand-Rolled Potato Gnocchi, Organic Mushrooms, Basil, White Truffle Oil

*

Prime 8 oz Flat Iron, Scrambled Eggs, Brunch Potatoes
Chef's Dessert Sampler
Miniature Warm Chocolate Cake, Cappuccino Semifreddo & Raspberry Mille Feuille
In the generous spirit of the holidays, we ask that each family help in one small way by taking part in helping local kids and families in need by supporting Cradles to Crayons Boston. The organization accepts any New and "Like-New" items alike and any donations are greatly appreciated!
Reserve now!
Choose your December Sunday at 11 am:
$65 per person†, plus beverages, taxes and gratuities
$45 per Child†, plus beverages, taxes and gratuities