Image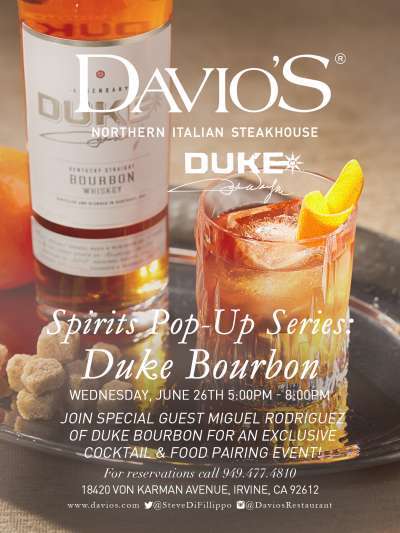 Pop Up Series
June 26, 2019, 5:00 PM–8:00 PM
Join Davio's Irvine on Wednesday, June 26th for our latest tasting event, the Spirits Pop-Up Series. Each month, Davio's selects a local distillery to join us for a night of exclusive cocktails and food pairings. This June, Davio's Irvine welcomes guest Miguel Rodriduez to present bourbon cocktails from Orange County's legendary spirits company, Duke Spirits.
Duke Bourbon has been crafted by masters and inspired by rare bottles unearthed and preserved for over 50 years from the collection of legendary entertainer, John Wayne. Duke prides itself on being meticulously blended to replicate and honor the tasting notes and profile preferred by John Wayne, using his original recipe from 1962 and his private collection to guide flavor and aromatics.
In addition to the specialty crafted cocktails, Davio's Executive Chef, Istvan Toth will be preparing a selection of unique bar bites to pair perfectly with the evening's libations.
Featured Cocktails:
1.5 oz Duke Bourbon
1 dash Orange Bitters
1 dash Aromatic bitters
0.5 oz Coffee/Cinnamon Syrup
1.5 oz Duke Bourbon
3/4 oz Carpano Antica Formula
2 Dashes Aromatic Bitters
1 dash Orange Bitters
1.5 oz Duke Bourbon
0.5 oz IPA syrup
2 dashes orange bitters
The Spirits Pop-Up Series: Duke Spirits event takes place on the Davio's Northern Italian Steakhouse — Irvine bar and patio. Reservations are recommended by calling 949.477.4810.